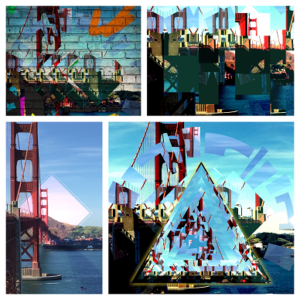 Financial markets and economies bounced in and out of a deep pothole in the first quarter of 2016 and the stomach churning reverberations continue to be felt in some investor stomachs.  The underlying strength of the US economy, led by consumer spending, is beginning to re-assert itself and the acceleration of core consumer price inflation (CPI, which excludes food and energy, and is at 2.3%, up from 1.6% at the start of the oil crash) validates the Fed's December rate hike.
2016 began with faint hope as an unconvincing December stock market rally quickly faded.  2015 yearend corporate profits were sure to disappoint as oil prices sunk lower and a strong dollar weakened foreign earnings translations for companies.  Market pundits looked out across 2016 and found convincing reasons for caution, fear and volatility, including the combined possibilities of Britain's exit from the European Union (a.k.a. Brexit), muck raking U.S. presidential nominations and elections, negative interest rates around the world, deflation, a meltdown in oil and commodity prices, a collapse in emerging market debt, and Chinese Yuan devaluation.  In January, some of these fears seemed prescient as oil prices dropped to the mid $20s and the Bank of Japan for the first time introduced a negative interest rate policy (to the surprise and frenzied dismay of many). But the thing with bottoms is that they are exactly that.
As more corporate defaults and bankruptcies were announced in February and March, U.S. manufacturing growth numbers actually stopped declining and started improving. The natural free market clearing and cleansing mechanism was working. The drop in industrial production had reflected problems in oil, coal and mining. Oil prices found their bottom and many other industrial commodities also troughed.  Lowered expectations mitigated the chance of another earnings meltdown. In March, the Fed's signal that it will wait to increase rates, another policy easing by the European Central Bank (ECB), and rumors of a high-level agreement with China not to devalue its currency, reassured investors that monetary authorities had not abandoned them.
As we enter the second quarter of 2016, consumption growth in most developed markets (with the notable exception of Japan) is underpinned by strengthening labor markets and still relatively low oil prices (compared to a year ago). Nonetheless, and ironically, improved oil and commodity prices (having bounced strongly off of January and February lows) have helped rescue many commodity producing emerging markets from dire projections. Global economic risks still remain – including a debt collapse in China's economy or a general rise in interest rates that would wipe trillions off of balance sheets – but overall, interlocked economies have made governments and central banks seem more cooperative than ever.
In the U.S., until recently, increased employment and longer hours (rather than higher pay) have increased household incomes; but as real wages increase and more people re-enter the labor force, consumer spending will expand and savings (as a percentage of income) decline.  As the domestic employment and economic picture improve, and emerging markets experience a modest rebound, Fed rate hike expectations will resurface and spark investor jitters; however, the combination of pent-up spending power and already pessimistic earnings forecasts should make US equity volatility tolerable.
In Europe, the grip of fiscal austerity is easing as policy will become conducive to growth over the next few years. This is good news because Europe needs an easier fiscal stance and more internal rebalancing to take pressure off the ECB and foster healthy sustainable growth. Given the limits of what the ECB can achieve through interest rates and bond buying, fiscal policy can do much to generate effective economic development and reduce persistently high unemployment. With yields at all-time lows and external and domestic imbalances much improved since the depths of the euro crisis, governments now have a compelling opportunity to help businesses and employment. Monetary stimulus was never intended to be a permanent solution and cannot address structural issues.
All is not bright, but all is not dim either.