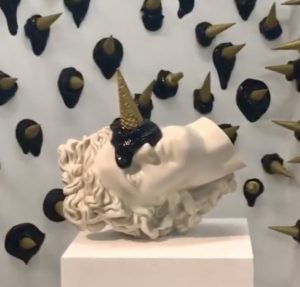 The world economy remains reasonably upbeat, and that creates unease.
U.S. companies are up and the Fed on track for rate rises
Puerto Rico is belly up, but France (and the European Union) are holding together
100 days will be a 1,000 days
Growth in the euro area is strong. Green shoots have appeared in beleaguered emerging markets such as Malaysia, Brazil and Russia, and although the Chinese economy has slowed, it is still in better shape than at this time last year. Even the U.S. has kept pace, with global growth boosting U.S. corporate earnings. The trend has been for stocks to float higher and bonds to muddle along.
For 2017 first quarter earnings, the S&P 500 is on pace for +15% earnings per share (EPS) growth vs. initial expectations of +9%. Growth was better across most cyclical-sector companies, with commodity-sensitive segments leading the charge. Yet analysts have curbed their profit-growth expectations for the rest of 2017 as interest rates rise, hopes for government fiscal spending and tax reform push further out, and as the U.S. economy paradoxically reported weak 1Q real GDP growth of +0.7%. In this cautious environment that seems neither too hot nor too cold, inflation is dormant, interest rates remain relatively low, and the economic expansion leisurely continues; ironically, a technical correction in stock prices is reasonably possible, but so is a breakout to new highs.
The Fed's last official statement confirmed that they remain in gradual rate-hiking mode and believe that the economy is stronger than suggested by Q1 indicators; "economic activity will expand at a moderate pace, labor market conditions will strengthen somewhat further, and inflation will stabilize around 2 percent over the medium term. Near-term risks to the economic outlook appear roughly balanced." The Fed also called the weakness in Q1 "transitory", reinforcing the idea that the US economy can grow enough over the final three quarters of 2017 to meet the Fed's 2.0% growth target. Therefore, corporate profits can continue to grow, while the Fed gradually normalizes policy; next rate hike is probably in June.
Puerto Rico filed for bankruptcy and triggered the largest restructuring ever in the U.S. municipal-bond market. Outside of Puerto Rico, the most affected will be hedge funds and a few mutual funds that had wagered on successful restructuring negotiations. Debt restructuring will now be overseen by a Federal judge. [For reference, U.S. states are not legally allowed to declare bankruptcy; but the Commonwealth of Puerto Rico is an unincorporated territory.] Interested parties will be arguing over an ever diminishing revenue generation capability as Puerto Rico's economy and population (who are U.S. citizens) continue to decline. Expect Puerto Rican immigrants to add to the mainland U.S. labor supply.
German and European Union (EU) leaders are relieved that in France, third-party candidate Emmanuel Macron is the new president following his better than expected win over populist and nationalist Marine Le Pen.  Macron's immediate focus will be to preserve the enthusiasm of his supporters to maximize the chances of his En Marche party at parliamentary elections next month while not frightening too many voters from established parties who also voted for him. A recalibration of French politics may mean a new push on economic reform and increased euro-zone unity; this should be good for euro-area investment markets.
For U.S. President Trump, 100 days will become 1,000 days. The arrival of the Trump administration was positive for equities and negative for bonds. However, many value investors remain on the side lines, waiting to see what – if anything – will really change. Real potential policy change that has not been resolved, either positive or negative, within Trump's first 100 calendar days in office may take 1,000 work days (i.e., about four years) to prove out: affordable care act/ healthcare overhaul, fiscal spending, infrastructure spending, tax reform, trade tariffs, immigration reforms, repatriation of foreign earnings, loop-hole elimination, regulation elimination, and foreign relations. Focus on what Trump does and the bargains he strikes, not on his theatrics and media posturing. For everyone else, expect patience to run thin and headline posturing to create stomach churning concerns regarding all of these issues.
Overall, financial conditions remain supportive for global equities. Global growth and interest rates were on an upswing before Trump was elected and nothing so far has sidelined that momentum; not Kim Jong-un, not Marine Le Pen, not Theresa May, not Xi Jinping, not Putin, and not Trump. If stocks drift aimlessly through the summer, they will eventually push higher as sanguine profit forecasts allow them to cheapen merely as we roll through the calendar.
The views and opinions expressed are those of Hollencrest Capital Management and are subject to change without notice. This material is provided for informational purposes only and does not constitute an offer or solicitation to purchase or sell any security or commodity or invest in any specific strategy. It is not intended as investment advice and does not take into account each investor's unique circumstances. Information has been obtained from sources believed to be reliable, but its accuracy, completeness and interpretation cannot be guaranteed. Past performance is no guarantee of future results.