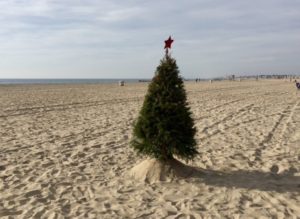 How stocks perform in January/February depends on whether an uncomfortable amount of volatility returns.  The forward multiple assigned to the market puts pressure on companies to generate good results, speak ebulliently about their outlook, and (more importantly) interpret how tax reform will affect their prospects and earnings.
Tax reform finalization came so late in December that analysts have not yet altered their forecasts to fully account for it.
Plenty of cash is parked on the sidelines, especially amongst funds and hedge funds that largely jettisoned risk and locked in gains by the beginning of the fourth quarter (so as not to mess up their best year since 2013); sentiment indicators are in oversold territory.
Looking to 2018, business surveys and research commentary remains upbeat, but a few analysts note rising wage and price pressures as a potential source of risk. Investment growth and business investment in particular are likely to pick up in 2018.  This may be good for commodities which have lagged the last several years.  Real estate also continues to have strong potential if well structured.
On the credit side, fundamentals are mostly fine, defaults are low, and cyclical economic indicators are good. Yet historically, most credit corrections have occurred outside economic recessions; half have happened with no prior deterioration in leading indicators. Thus, monitoring spreads is key!  Watch out that companies don't over extend themselves on capex or M&A (capital expenditures or mergers and acquisitions), especially as covenants have gotten looser.
Merry New Year!
May 2018 be happy and healthy.
The views and opinions expressed are those of Hollencrest Capital Management and are subject to change without notice. This material is provided for informational purposes only and does not constitute an offer or solicitation to purchase or sell any security or commodity or invest in any specific strategy. It is not intended as investment advice and does not take into account each investor's unique circumstances. Information has been obtained from sources believed to be reliable, but its accuracy, completeness and interpretation cannot be guaranteed. Past performance is no guarantee of future results.