Upon the heels of this year's hurricanes and international upheavals, November may have seemed almost tepid. However, in the ramp-up to the holidays, the markets were anything but lackadaisical. In fact, November seemed to mark a turning point.
Table 1. Action/Reaction [click on table to enlarge]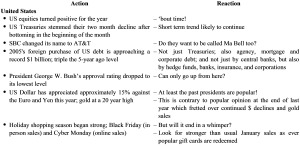 Table 2. Action/Reaction [click on table to enlarge]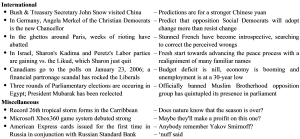 Domestic investment, political, and economic sentiment has turned. New government data shows strength in job creation, economic output, consumer confidence and orders for durable goods. Economic indicators have rebounded from this summer's hurricane disruptions. Many of the world's markets are experiencing similarly positive performance. As we mentioned last month, look for European banks to start raising interest rates in defense of their own currencies and debt.
However, even with the markets shifting up, there are stirrings of domestic and international political dissatisfaction: low confidence in President Bush, fresh elections in Canada, Israel, Germany and Egypt, and bombastic disruptions in France and Lebanon.
In December, the Federal Reserve will implement its thirteenth consecutive quarter-point increase in the benchmark interest rate; market opinion is that the Fed may relax its wording to indicate less interest-rate hikes in 2006.
The US Economy should remain solid. Consumer spending will probably continue to grow (although possibly at a slower pace). The dampening effect of rising mortgage payments will be partially offset by the stimulative effects of rising interest income. However, because rising interest rates have recently caused residential mortgage applications for purchases and refinancings to decline, one possible significant point of economic weakness is real estate and mortgage related employment in Southern California. Some layoffs have already begun.
The US dollar has been strong through most of 2006, but has weakened in the last few months. This deterioration should aid the almost 40% of S&P 500 revenues that are derived from overseas operations. The S&P sectors with the largest foreign sales exposure are technology, industrials, consumer staples, basic materials and energy.
From a bottom up perspective, pundits and laymen are focusing attention on holiday retail spending and thereby speculating on retail, technology, finance, toy, consumer durable, and clothing sectors.
Greg P. Pellizzon
Managing Director
Michael Ashley Schulman, CFA
Director
Hollencrest Capital Management
www.hollencrest.com